Don't set foot in the bridal salon without brushing up on your gown shopping basics.
by:  The Knot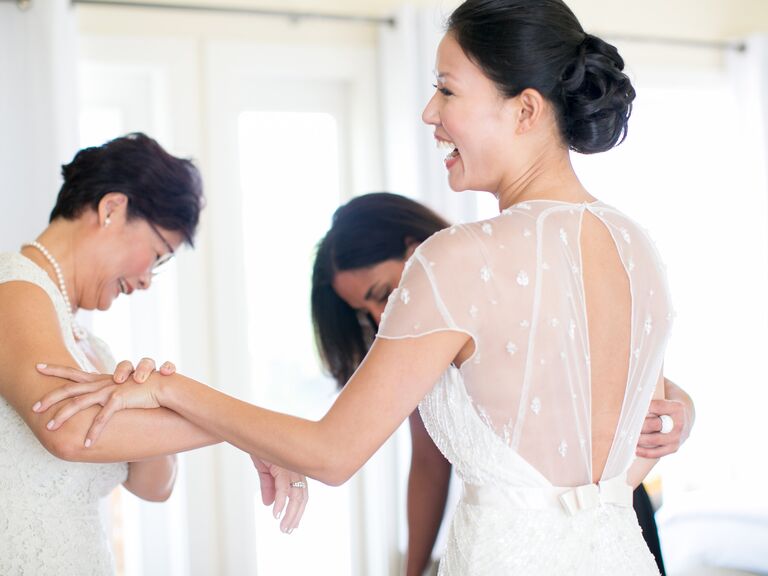 JENNABETH PHOTOGRAPHY
Before you head out with all your saved photos and the will to power through countless wedding gowns, we've got a few pointers for you. Like, should you bring a bra to your appointment? Or are there any secret costs to know about up front? Brush up on these tips before you begin wedding dress shopping.
1. Limit Your Entourage
We've said it before, and we'll say it again—bringing a big group to the salon is a gown shopping don't. Enlist one or two of your closest friends or family members to help you start your search. This way you can find the gown that best suits you and your style and not feel pressured by too many opinions.
2. Hidden Costs Add Up
Remember, your wedding gown budget doesn't just include the dress. Your veil or headpiece, accessories (think jewelry and shoes), undergarments and alterations will also add to your bottom line. Factor in these costs before you give the salesperson your final shopping budget.
3. Undergarments Are Optional
Before you head into your appointment sans underwear and claim The Knot said it was okay, read this: Most bridal shops have a few different types of bras in the fitting room. If you have a favorite strapless style or plan on wearing a particular body shaper, go ahead and bring it. You'll ultimately need your gown-specific undergarments for your first fitting but not your initial appointment.
4. Salons Can Sometimes Take Requests
Just because a bridal salon carries your favorite designer doesn't mean it'll have the exact wedding dress you've been wanting to try on. But, if you phone in advance and request a specific style, your consultant may be able to call for a sample of that gown especially for you.
5. Don't Get Discouraged
There are hundreds of bridal designers out there with literally thousands of designs, which makes the odds of your finding a fantastic gown pretty darn good. We know that coming up empty-handed on your first trip can be a letdown, but don't give up.
6. Shop for Your Body
When trying on dresses, focus less on your weight and more on the shape and frame of your body. Your weight may be constantly fluctuating, especially during highly stressful situations, so don't let that be the deciding factor in choosing a dress. Concentrate on finding silhouettes that accentuate the features you love and make you feel amazing.
7. Always Book an Appointment
While you may get lucky and snag a salesperson just by walking in, scheduling an appointment is the only way to ensure you'll get a full hour of undivided attention.
8. It's Okay to Pick Favorites
To help guarantee your gown shopping experience goes smoothly, ask the salon coordinator when you call to book your appointment if she can suggest a favorite consultant. Or get recommendations from friends and request a consultant by name.
9. Skip Day One of Any Sample Sale
We know you're tempted to get there as soon as the doors open, but shopping on the first day of a sample sale can be overwhelming and crowded. Do yourself a favor and call ahead to ask how many days the sale will run. Then go on one of the later dates.
10. Try to Shop on a Weekday
If you're the type who hates being rushed when shopping (us!), try to make an appointment on a weekday morning or afternoon. Saturday is the busiest day at bridal salons, so skip the crowds to get undivided attention if you can.
Find a bridal salon near you here.
Get some major inspiration for wedding dress shopping here. Next, it's time to book your wedding venue and Geronimo Oaks is ideal. Contact us for more information and to book your tour.
Credit:
https://www.theknot.com/content/amphtml/top-dress-shopping-secrets