We can probably all agree that watching flower girls and ring bearers stroll (or inch shyly!) down the aisle at a wedding is the cutest part of the day. But how does a couple decide which children get that honor? And what about the kids who don't get picked? Read on to figure out exactly how to choose your flower girl and ring bearer.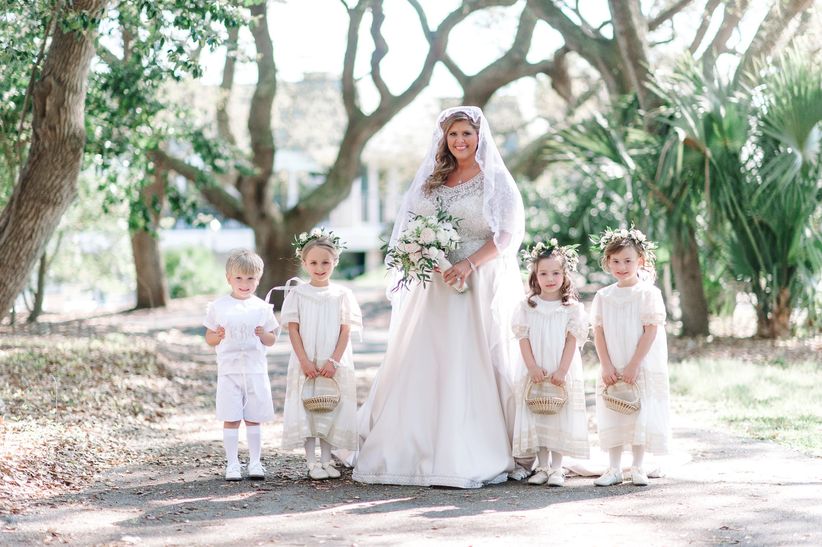 1. Figure out if you actually want kids at your wedding.
Before deciding who your flower girl and ring bearer will be, you'll want to decide if you're planning on having children at your wedding at all. Inviting children to your wedding has its advantages (all the cuteness!) but also some potential issues (screaming during your ceremony!). Weigh the pros and cons of having an adults-only wedding, and figure out which approach is best for your big day.
2. Make sure you have the right age of ring bearer and flower girl.
According to etiquette expert Anna Post, the age of ring bearer and flower girls are usually between the ages of three and seven (older children may be considered for a "junior bridesmaid" or "junior groomsman" role). Younger children are more likely to become shy and nervous at the wedding, though, so keep that in mind as you're making your decision. Parents of particularly young children should be seated near the front of the venue on the aisle, so that kids can see mom or dad while processing down the aisle. Kids can always sit with their parents after they've completed their duties, rather than standing with the rest of the wedding party where they might become restless.
3. Consider relationships, but also ages, personalities, and experience. 
If the choice isn't obvious — i.e. you have your own children, or there are a couple of nieces or nephews you're particularly close with — then selecting your flower girl and ring bearer might pose a bit of a challenge. You can always include more than two children in your wedding party — have an older child pull two or three little ones in a wagon, for example, or have one attendant throw petals while the other carries the bride's train. But if you're committed to selecting just two kids, consider personalities and the age of your ring bearer and flower girls. Will your best friend's son be so shy he hides under a pew? Will your brother's daughter dance her way down the aisle, delighting everyone? Think about the quirks and traits of the kids you know and how they might fit into your wedding-day picture.
You might also want to consider whether or not there are kids in your life who have been included in weddings before. If you have a niece who's been a flower girl three times, and a friend's daughter who has never been in a wedding, consider asking the friend's daughter if she'd like to take part to partake in this special experience.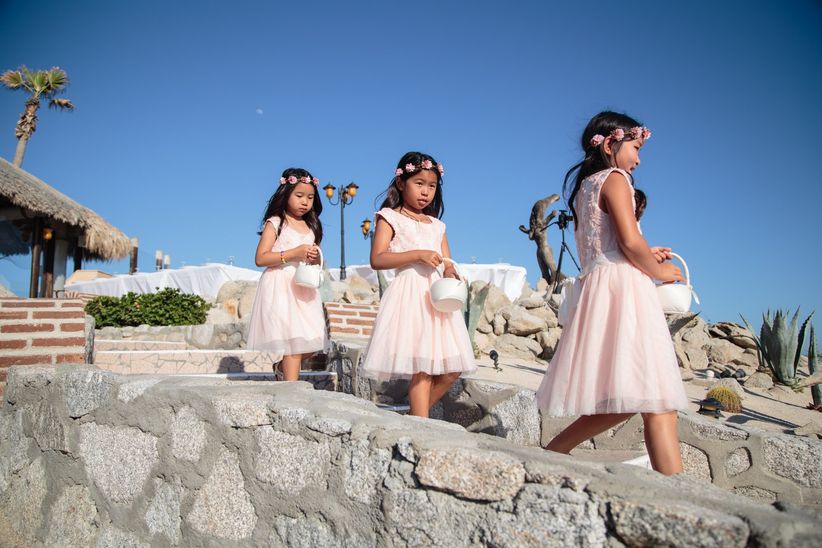 4. The parents play an important role, too.
While your littlest attendants will certainly get their moment in the spotlight, their parents will have a lot of behind-the-scenes work to do. They'll need to purchase wedding attire for their little ones (unless you volunteer to foot the bill, which is not necessary but certainly generous), prepare their child for the big day, ensure good behavior during the (potentially long and boring) family portrait session, handle any meltdowns, and more. Before selecting a child to be your flower girl or ring bearer, think about if their parents will be able to handle this responsibility. If the child's parents are already in the wedding party, this may be a bit easier, but consider other issues, such as if the parents also have infant children that might need attending during the wedding.
5. When it comes to gender roles, feel free to "break the rules".
The roles of flower girl and ring bearer have traditionally been gender segregated, but you can absolutely break the rules. Boys can toss flower petals, girls can carry the rings, or they can do something completely different—like carry pinwheels, signs, or ribbon wands down the aisle.
6. Ask your flower girls and ring bearers the right way. 
You'll obviously need to get permission from their parents first, but it's a sweet gesture to send a card and maybe a treat to your child attendants asking them to participate in your wedding. When you speak to their parents, don't forget to discuss outfit requirements, and who is expected to pick up the tab on formalwear.
7. Give other kids special jobs.
If there are kids in your life who are special to you but won't be able to participate in the actual wedding ceremony, consider giving them each a flower crown, corsage, or boutonniere to wear throughout the day. That way they know they're important and still get to show off to their friends. If you're assigning slightly older children the roles of usher and junior attendant, you can dress them slightly differently from the flower girl and ring bearer.
Some couples have even had "kid parades," where all the child guests at the wedding get to process down the aisle with noisemakers. You'll either think this is a fun and whimsical idea, or a total nightmare — but it's always an option!
With the flower girl and ring bearer chosen, contact Geronimo Oaks to schedule a tour of our wedding venues.