Searching for a wedding planning checklist that's agile and practical like you? You've arrived. Wedding planning checklists can be super useful, but they can also have tons of extra details that might stress you out more than help you out. Rely on our simple wedding planning tips below and count on the wedding experts at Geronimo Oaks for a wedding venue that you'll love.
Whether you're planning a wedding in three months, six months, or eighteen months, if efficiency is what you're after, this simple planning checklist will serve as an ideal progress report for you.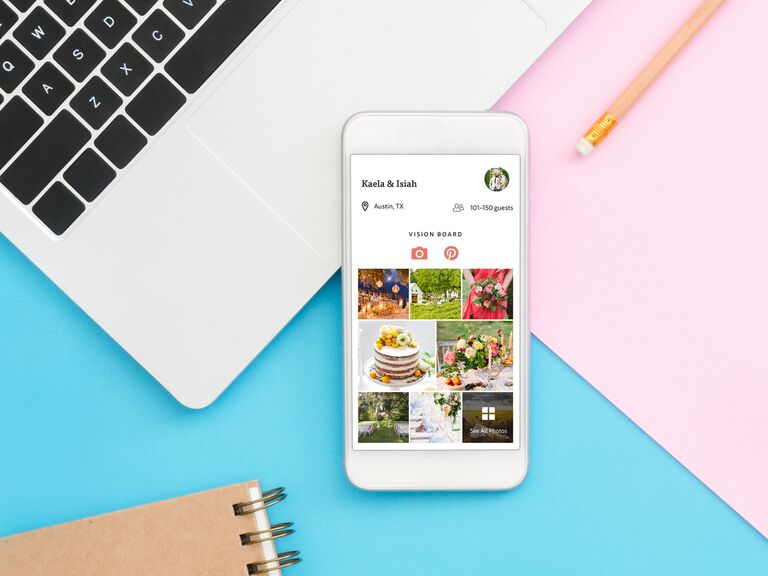 ISTOCK
Step 1. Make Your Biggest Decisions First
A lot of people say you need to choose a venue first. But it's hard to do that without having a date in mind. Not to mention, a budget. In fact, so many of these decisions are codependent, that it would serve you best to tackle these choices first. As soon as you're ready to start seriously planning, you should pick your date, set your budget, and pick a venue, all in relatively rapid succession. It might feel like a lot at once, but you'll be so glad you have these three essential tent poles established once it's time to build your dream wedding!
Step 2. Get Personal With Your Wedding Style
Once you've nailed down the big decisions, you can start getting more granular (think guest list, attire, flowers, etc.). But you don't need to waste your time with a one-size-fits-all to-do list. Order in with your partner, outline your vision and priorities, then use our customized checklist tool to create your own personalized plan of attack. You'll get a clear vision of next steps and you won't waste any time on irrelevant details. The biggest perk of all is that since the two of you have created your personalized checklist together, you'll have to make mutually agreed-upon decisions for the ceremony and reception.  (So no one can go back and call out that panoramic photo booth.)
Step 3. Send Out Your Invitations and Make That Wedding Website
Once you've secured your venue, date and wedding vision, send the invitations to your guests (or mail save-the-dates if you have more lead time). In conjunction with alerting your guests, we recommend creating a wedding website that includes all of the relevant details regarding your wedding. While you're building it, grab a glass of wine with your partner and complete your wedding registry—it's fun, we promise—so that your guests have all the details and can consider a thoughtful gift too.
Step 4. Select the Other Essential Vendors
Guided by your simple wedding planning checklist, plus your wedding vision, now's the time you can make those essential and additional vendor choices. Find the dress, look into wedding party attire, and secure a tailor. Find your ideal DJ and caterer. Plus, book a florist who can find suggest lush alternatives when peonies aren't in season.We suggest maximizing your weekends, because the more you mark off your wedding planning checklist now, the less you'll scramble closer to your wedding date.
Step 5. Have The Parties Before the Party
By the time you're in the final stretch of wedding planning, trust us, you'll welcome any escape—especially with friends. Now is the time to plan a bachelor or bachelorette party. It doesn't have to be fancy or far flung (even a relaxing night in with friends and pizza would do, if that's your style), but take some time to celebrate you and your hard work with your support group. If your loved ones want to host a bridal shower, make sure your registry is up-to-date so that your family members and friends can purchase your newlywed nest essentials like that Dyson vacuum or that Vitamix you've been eyeing for years.
Step 6. Make Final Tweaks
The final portion of wedding planning is the time when you have to buckle down and get through the minutiae. Now that you have your guest count confirmed, finalize any rental orders and catering updates, plus your signature cocktails.  Go in for that final dress fitting and make sure it's exactly what you had envisioned . Put together your thank-you gifts and get those favors together. Send through a detailed shot list to your photographer so that this pro knows exactly what to anticipate.
One important tip: If you're overwhelmed, this period is a great time to call upon family members, friends, and your planner (if you've opted to hire one) to help you tackle all the remaining items on your wedding planning checklist. Set final expectations with the wedding party members, go through those seating arrangements, meet with your officiant (and make sure any premarital counseling is completed), and finesse any legal details like your marriage license, name change documents and more. It might feel like a lot, but you'll cherish this time period after it's over.
Step 7. Rehearse, Eat and Be Married
You made it! The days leading up to your wedding should be as stress-free as possible, so if you realize you forgot something at this point, let it go (especially if it's small). Your wedding will be yours, truly, because you tackled the biggest decisions first. If something goes wrong during the wedding festivities, designate a point person in advance (a planner, a maid of honor or the best man) to suppress the stress. More than anything else: have a great time. Make it a priority to be present with your partner and enjoy the wedding you've planned for you and your guests. It's the best gift you can give yourself.